CBD: What is it?
Cannabis sativa, generally known as cannabis or hemp, contains a substance called cannabidiol (CBD). The Cannabis sativa plant contains more than 80 cannabinoids. The most well-known component of marijuana is delta-9-tetrahydrocannabinol (THC). Cannabidiol (CBD) can be used to treat anxiety, in contrast to delta-9-tetrahydrocannabinol (THC), which has a reputation for being euphoric and anxiety-inducing. Numerous researches have confirmed the benefits CBD can have on different anxiety problems, which lends evidence to this advantage.
According to a recent Forbes Health study of 2,000 U.S. people done by One-Poll, 51% of U.S. adults who use CBD do so to help reduce their anxiety, even though CBD isn't yet legally approved as an anxiolytic, or drug for anxiety treatment. With certain scientific studies showing that it may lessen the symptoms of illnesses like chronic pain and anxiety, it is continuing to gain popularity in the health and wellness sector.
CBD & Anxiety: how can CBD help with anxiety?
CBD, or Cannabidiol, has been gaining popularity as a supplement for emotional regulation and anxiety management. While the research is still inconclusive, there are numerous anecdotal accounts from consumers around the world who say that CBD helps them with emotional flooding and feelings of stress.
But does this mean that CBD is good for helping with an anxiety attack? Northern County Psychiatric Associates suggest that, while it might not be a cure-all for all types of anxiety, CBD can help calm the mind and body in some cases. By calming overactive emotional responses, offering relief from panic attacks and calming the physiology of extreme emotional states, it is no wonder CBD has gained such traction as a natural remedy for anxiety disorders. Moreover, there is evidence to support the utilization of CBD not just for its anxiolytic properties but for preventing further emotional imbalance by balancing brain chemistry with reasonable doses of cannabidiol.
It's important to remember, though, that medications prescribed by a physician should always be used as directed by a qualified health care provider in order to determine if CBD may be helpful in relieving anxiety symptoms.
Different types of CBD
The three different varieties of CBD are:
Full-spectrum CBD
Broad-spectrum CBD
CBD isolate
Knowing the differences among these varieties will help you select the one that will work best for your unique needs and preferences.
Full-spectrum CBD
Full-spectrum CBD is a term used to describe a hemp extract that includes not just CBD but also terpenes (compounds that give plants their distinctive smell) and trace levels of THC. The combination of CBD, terpenes, flavonoids, essential oils, and other cannabinoids found in full-spectrum CBD products is known as the "entourage effect," and some studies suggests that using CBD in this way may have greater therapeutic advantages than using it alone.
Broad-spectrum CBD
Broad-spectrum CBD is a hemp extract that is identical to full-spectrum CBD, with the exception that it usually goes through an additional extraction procedure to get rid of all the THC while leaving the other naturally occurring components in the hemp plant unaltered. It is safest to describe broad-spectrum CBD products as "virtually THC-free" despite the fact that testing has shown that some of them still contain traces of THC.
CBD Isolate
As the name implies, CBD isolate, also known as pure CBD, is free of THC and other plant-derived substances. Because the extraction process separates CBD from all other terpenes, cannabinoids, and plant chemicals naturally present in hemp, unlike full-spectrum and broad-spectrum CBD, CBD isolate cannot produce the entourage effect.
Why is CBD so popular?
Different from THC's effects, CBD appears to have some impacts on some brain chemicals. Therefore, its use in the management of several brain conditions makes it well known. CBD in a prescription form is used to treat epilepsy (epilepsy). In addition to these purposes, CBD is also used to treat pain, anxiety, dystonia, Parkinson's disease, Crohn's disease, and a host of other illnesses, making it one of the best depression and anxiety medication available. Not all CBD products manufactured from hemp are, however, legal. Since CBD is a recognized prescription medication, it is illegal to add it to food or dietary supplements.
How does CBD work?
There is evidence that CBD acts by interacting with central nervous system receptors. It might also act as an anti-inflammatory and have painkilling properties that aid in pain management.
To treat problems, many are using CBD instead of prescription medications. According to PMC, selective serotonin reuptake inhibitors, or SSRIs, can have a range of negative effects and may be avoided by those with depression or anxiety. CBD presents a viable alternative to highly addictive opiates for patients seeking pain alleviation.
Although further studies on humans are required to fully understand how CBD functions, there is preliminary data that suggests CBD may be helpful in treating a number of different illnesses, including:
Inflammation and ongoing pain (e.g., neuropathy, arthritis)
Anxiety
Insomnia
PTSD
Psychosis
Alzheimer's condition
Parkinson's condition
Cancer signs and symptoms
Diabetes
Product types with CBD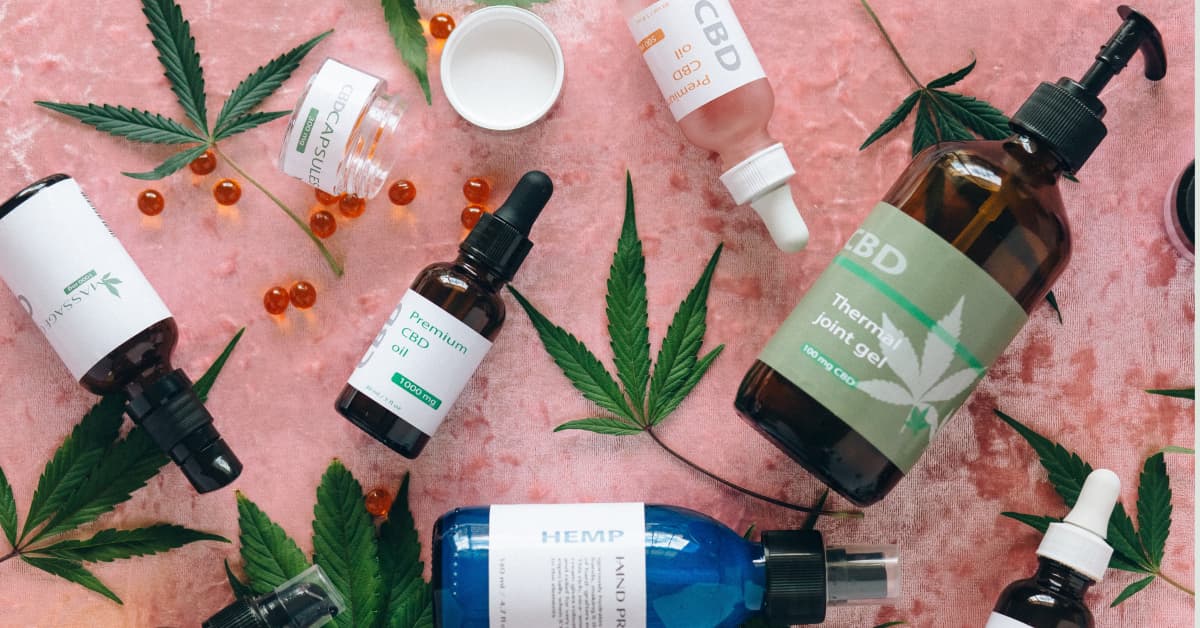 CBD is extracted from the cannabis plant to make CBD oil, which is then diluted with a carrier oil like coconut oil or hemp seed oil. Bottle sizes for CBD oils and tinctures typically range from 1 ounce to 4 ounces. The dropper on the bottle may also be marked with dosages, often at intervals of 0.25 milliliters. You may experience the effects of CBD oil drops beneath the tongue more immediately than they would with other kinds of CBD. Additionally, sublingual ingestion may increase the amount of CBD that enters the bloodstream compared to other ways of delivery. We'll discuss later on the best CBD oil for daily cbd usage.
Gummies and other consumables infused with CBD, such as chocolates, cookies, brownies, and other meals and drinks, often take longer to take effect than oils and tinctures. There is a delay in the onset of effects when gummies and other edibles are consumed because the digestive system must first process them. As a result, less CBD enters your bloodstream.
Capsules, soft gels or tablets
Oral capsules containing CBD are additionally available. The effects of CBD capsules often take longer to manifest than those of gummies or other edibles since the digestive system must absorb them before they can start working.
CBD may also be taken by inhalation through CBD vapes, which come in discreet, pre-filled or refillable cartridges, or "pens." Using solvents like propylene glycol or vegetable glycerin to make CBD oil vapable can result in the inhalation of heavy metals, vitamin E acetate, and other chemicals that are present in the oil. These extra substances may have detrimental consequences on the lungs or overall health. Aside all these consequences, it is also not advised to use CBD vapes due to their high THC content compared to other CBD products.
To ingest CBD, you can also smoke the dried flowers of the hemp plant. The effects of CBD consumption are often felt more quickly and the amount of CBD absorbed into the system is greater when done through vaping or smoke inhalation. However, CBD inhalation through vaping or smoking flower has not undergone sufficient research and poses a theoretical risk of lung damage. It also makes it more difficult to control dosage. Vaping also carries additional dangers. 
Given how simple it is to use, this is among the best CBDs. You can apply lotions, salves, ointments, and other topicals containing CBD to the affected area if you're looking for potential relief from chronic pain or from a variety of skin disorders. It is possible to avoid some of the potential adverse effects of CBD that do enter the bloodstream by using topical versions of the drug, such as lotions or creams, which have minimal bloodstream absorption, such as diarrhea and lethargy. Consumers should utilize a non-topical product instead if they are looking for treatment from non-skin issues like pain, insomnia, or anxiety because these conditions tend to benefit more from CBD when it enters the bloodstream.
Our 7 top-tier CBD products
1. CBDistillery Gummies
Industrial hemp of the highest grade, farmed without the use of genetically modified organisms (GMOs), is used to make CBD gummies by CBDistillery. To give you the relief you need when you need it most, CBD gummies are available in a range of formulas and flavors. They are infused with the highest quality CBD extract. This is the ideal gummy to use whether you need CBD for daytime, evening, or all-day treatment making it the best CBD products for anxiety. The gummies are delicious to consume at home or when traveling. Experience improved health and wellness advantages by trying CBD gummies.
2. CBDfx Gummies
CBD-derived from hemp is present in CBDfx gummies, which are edible goods. They also include other organic, all-natural components in addition to organic, broad spectrum CBD. These components provide scrumptious flavor and lovely texture, as well as extra advantages that will help you get the most out of your CBD experience. The CBDfx gummy line offers a variety of goods, including the original mixed-berry CBD-only candies, multivitamins for both sexes, and supplements. These gummies are all a safe way to incorporate organic CBD to your daily routine and have excellent nutrient profiles. Additionally, they taste fantastic in gummies.
3. Cornbread Hemp Full Spectrum CBD oil
Only two organic components, organic whole flower hemp oil and organic medium chain virgin coconut oil (MCT oil), are used in the production of this pure and unadulterated best rated full spectrum cbd oil. Non-GMO, gluten-free, and vegan ingredients are all used. Full spectrum Cornbread Hemp helps without leaving you feeling groggy or with a hangover the next morning. This is one of the best CBD oil in market and may help you unwind and ease your way into a restful, complete night's sleep.
4. Extract Labs Gummies
These CBD gummies are a tempting way to complement your regular CBD regimen thanks to a mouthwatering variety of strawberry, lemon, and watermelon tastes in each bottle. 33mg of excellent full spectrum CO2 extracted CBD oil are present in each gummy.
5. Medterra CBD Tincture
With concentrations of 500 mg, 1000 mg, and 3000 mg, Medterra's CBD Oil Tinctures are created with our 99%+ CBD and MCT Coconut Oil. Each CBD tincture contains 30 servings, is safe, inexpensive, simple to use, and legal. It can be taken sublingually day or night. Pure CBD and MCT Oil are the two main ingredients. Regardless of concentration, each Medterra Tincture is sold in a one-ounce bottle that holds 30mL of the product. The dropper applicator enables precision and versatility in serving sizes.
6. Spruce CBD Topical Cream
For prompt and practical treatment, Spruce CBD offers topical creams that are stress relief CBD. It contains just the correct quantity of CBD to treat your discomfort while preventing any negative side effects. 300mg of CBD are contained in each 2 ounces of this topical cream with high potency and maximum power. It's rather potent, and other skin-friendly chemicals like magnesium stearate, mineral oil, and even a tiny bit of alcohol is added for good measure.
7. Social CBD Rest & Relax Body Lotion
This multipurpose moisturizer is brimming with skin-friendly components that encourage relaxation while replenishing moisture. Contains plant-based essential oils with a light lavender aroma to promote natural sleep. Together, magnesium and arnica help people unwind and reduce tension. This is undoubtedly the best CBD oil for depression and anxiety.
Side effects
Some side effects of CBD include dry mouth, low blood pressure, lightheadedness, and sleepiness. High doses of Epidiolex, a prescription version of CBD, have also been linked to liver damage symptoms. Applying to the skin: For an accurate assessment of CBD's safety or potential negative effects, more trustworthy data is needed.
FAQ
Does hemp seed oil help with anxiety?
Researchers examined the impact of hemp seed oil on a total of 72 people who had anxiety disorders and discovered that 79.2% of the study participants reported less anxiety.
Can CBD cause you to feel "high"?
THC, the psychoactive component of marijuana, is the particular cannabinoid present in it that causes you to feel high. Industrial hemp is bred to produce more CBD and have substantially lower THC levels.
How safe or addicting is CBD oil?
When using cannabidiol oil for anxiety, it should be safe as long as you purchase from a reputable vendor who can provide documentation on the safety and composition of CBD products.
How long does it take for CBD oil to work for anxiety?
Within 30 minutes to 2 hours, the effects of CBD taken orally, whether in the form of oils, sweets, or capsules, start to take effect. More rapid effects are obtained by smoking, vaping, or ingesting cannabis buds or CBD oil. To reduce anxiety all day long, people might utilize oral CBD medicines.
How much does CBD oil cost?
Average prices for high-quality CBD oil drops range from $0.09 to $0.17 per mg, with the lowest prices around $0.05 and the highest prices at upwards of $20 per mg.
Does CBD have a toxic dose?
It's always recommended to follow the manufacturer's directions for the product you buy, but if you experience any negative effects, such as dry mouth, low blood pressure, or sleepiness, stop using it and see a doctor.
How to use CBD oil for anxiety?
Popular CBD dosage forms include sprays and oils since they are simple to use. Drops of CBD oil can be ingested sublingually by placing them beneath your tongue. Since your mucous membranes are filled with microscopic capillaries, the CBD penetrates swiftly into your circulation. Edibles like CBD gummies are another well-liked way to take in CBD.
Takeaways
Cannabidiol (CBD) is a substance found in Cannabis. CBD doesn't cause impairment. CBD can be made from non-hemp plants or from hemp plants. For its use, CBD is offered in a variety of consumer goods. However, it is not recommended taking CBD while pregnant.